Musicians talk about the Firebird VII album
Share
Leszek Możdżer together with guitar player Phil Manzanera, drummer Charles Hayward and bass player YaronStavi created the Firebird VII album. Leszek Możdżer promotes the tour with his own words: Those, who expect a typical piano playing with deep aftersound, can be really surprised. It is a very sharp project, straight rock'n'roll.
Firebird VII is an explosion of musical inventiveness, created by Phil Manzanera, one of the UK's great musicians and guitarists, in collaboration with ex-Quiet Sun and This Heat's avantgarde drummer Charles Haywar, top Polish classical/jazz pianist Leszek Możdżer and renowned bassist Yaron Stavi from Gilad Atzmon's Oreint House Ensemble and released on 10 November 2008 on his label Expression Records. This ambitious musical endeavour is inspired by the red and white Gibson Firebird VII guitar, his signature guitar and one that Manzanera has had a 35 year musical partnership with.The Firebird VII album has its origins in a chance meeting at Gatwick Airport.
Manzanera explains I was standing in the security queue and the man in front of me turned round and said "hello Phil", it was Charles Hayward, school friend, drummer on our 1975 Quiet Sun album…who I hadn't seen for 20 years. We agreed that it would be great to work together on another music project. Around this time Gibson Guitars called me about a signature guitar "inspired by Phil Manzanera" and of course it had to be my Firebird VII: I bought it in 1973 and it featured on Roxy Music's second album cover, For Your Pleasure.
The album consists of 7 tracks – two were composed by Manzanera, other members of the band composed one track and there is also an old composition of ex-Quiet Sun member Bill MacCormick and Mexican Hat – an effect of team improvisation in studio. The seven track album was recorded in one week at Manzanera's Gallery Studios.
Source: Muzyka.Interia.pl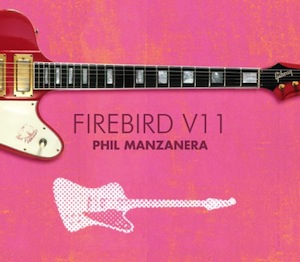 read less