Możdżer Superstar
Share
The tour of the Polish Festival Orchestra (of which our country is just a small part) is an enormous logistic enterprise. The Polish leg of the tour, in which the trio of Możdżer, Lars Danielsson, and Zohar Fresco are promoting their excellent album "The Time", includes eight cities and is just an episode compared to the whole tour. Hoverer, it is noteworthy that for many years there has not been a jazz artist who has travelled in such comfort, accompanied by a professional technical crew which even includes a piano tuner (by the way, we're talking about a massive concert Steinway here).
This speaks volumes about the status (well earned but pretty recent) of Leszek Możdżer. I believe it's not about the wishes and demands of a capricious musician, who with time got tired of the Spartan conditions offered by our show-business. It is more about respect for listeners and about presenting the album's content in the best conditions possible. Luckily he was supported by a generous sponsor.
"The Time" itself contains calm, almost contemplative music. I was pretty sure that it would sound more expressive live and Możdżer, known for his unrestrained fantasy, would improvise, improvise, and improvise… It didn't happen. Those of us who have already heard "The Time", heard an extended version of the album on Friday evening in Impart. Those who bought the album after the concert – found exactly the same nostalgic climate.
In this case it was a good thing. Możdżer has matured and he is now able to curb his temperament. He has also become more restrained as a narrator. At times in the past I have felt that he was being self-indulgent – for example his chats on his "Piano Live" CD and DVD. Now he can focus more on the music than on making a show. Among the tracks included in the album that he didn't play was Komeda's "Svantetic" (if I'm right, he just quoted it briefly) although he added Davis' "So What" in return. Of course, concert performances have their own rules – there are long introductions, there's a time for a free-flowing dialogue, sometimes for jokes. The musicians didn't add a new dimension to the music recorded in the studio, however it is pure pleasure to watch their virtuosity live – especially when Zohar Fresco plays a whole symphony on an ordinary tambourine and Lars Danielsson plays the cello as if it were a guitar.
I buy this matured, mellowed Możdżer without question. Especially that we are dealing with a world novelty here – in the history of jazz the trios with piano as a main character but without the percussion – that's absolutely unique. Legendary Oscar Peterson replaced the drummer with a guitarist in a completely different, swing poetics. Now Możdżer invited a singing virtuoso of percussion instruments to cooperate. Zohar Fresco wouldn't have graduated from jazz academy, however he's a brilliant sound-creating artist.
In less than two months the pianist is going to perform in WrocławPhilharmony. Together with Andrzej Bauer, the cellist, and m.bunio.s the "around musician" using gramophone, sampler and computer. There the pianist is going to present a famous project "Lutosphere" – variations on the music and words by WitoldLutosławski. This spring the trio has already presented this program in the courtyard of the Townsman Brewery, opening the Musica Electronica Nova festival. They had a wonderful time. Now the audience will be able to listen to "Lutosphere" in music-friendly conditions.
Source: Adam Domagała, Gazeta Wyborcza, Wrocław 2005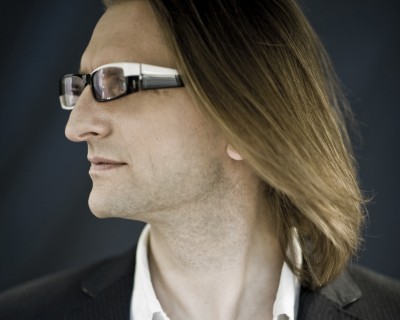 read less