Music Factory in my head
Share
Born in 1971.One of the most versatile Polish pianists. He supported Anna Maria Jopek during her recording session with Pat Metheny. He released "Polovirus", the best independent album of the 90s together with TymonTymanski'sKury. Played with Adam Makowicz in Carnegie Hall, New York. He prepares to release the recordings he made together with Brazilian drummer Nana Vasconselos during thisweeks two concerts in Rio de Janeiro on the Polonia Carioca Festival.
Your new album "The Time", which you recorded together with Danielsson and Fresco, will be released in October. What is time for a person like you, rushing through life – a measure of an album, a concert or maybe an improvisation?
Leszek Możdżer: As far as the "The Time" album title is concerned, it means "here and now". It emphasizes the importance of our meeting. Besides, we were recording on the analogue device, there was no way of correcting the recordings. Everything we played, everytime the "record" button was being pressed, was irreversible.
How do you experience time?
The older man gets, the faster time flows. I feel this faster rhythm. Recently I slowed down, I'm learning to live slower, because I have already landed in a wheelchair once after the spinal injury. Till that day I was cheating on time, I lived too intensely, 24 hours a day. I thought it takes just sitting in front of the piano for 10 hours straight to make up for any musical or compositional arrear. I wasn't moving enough. Now I'm trying not to hurry anymore. I understood that an artist needs rest just like the muscles do. Otherwise one can overtrain, hurt oneself. I visit the gym, the swimming pool, I am conscious of what is being put on my plate, of what I drink. I know everything must come in its own time, mature naturally. It is possible to play al of your music in 10 years. And then what? In the same time I know that I have 80 albums on my account while I'm 34. Of course, most of them are mediocre, but there's already something that would be my legacy. But I want to live longer. After the spinal injury I seriously considered giving up my work. I've asked myself if it was worth my health, if it was worth riding on a wheelchair. I understood it wasn't. When I began to build a relationship with my own body anew, I became a bit more distant towards life and music. And when I sat in front of the piano again, I realised how much I'd miss playing. Now I'm trying to balance life and music.
How long can you live without a piano?
This year I haven't played for two months. Actually, I should say I wished not to play for two months! The mind, however, has a strange ability to generate situations and attract objects. I went to Greece on holiday, I wanted to distance myself from music. I found an appartment by the sea. It turned out the owner was the keybord player who lived next door. Sometimes he practiced, which could be heard through the wall. So we met over keybord and wine – not once, not twice. I guess I'm doomed to keyboard. The truth is, I cannot do anything except for playing.
Maybe you want to stay away from music, but even as you jump over puddles in Rio de Janeiro, it's clear that there are new motives and rhythms seasoning in your mind.
It's true, the music machinery in my head is working on full extent. It works the whole time and produces new sounds. I can only enjoy my music factory, although it is hard to turn it off even for a moment, it has a life of its own. Luckily I already have experience and intuition, this way I use only the worthy motives. There is a strong likelihood that the things I work on will end up in a nice shape.
Whay do you do with the music when you talk to somebody or eat dinner?
The most beautiful symphonies come to life when one lays down with his head over his arms. Music takes the most beautiful forms in a free imagination. I hear what the orchestra, bass guitar, guitar and horn will be playing. Writing down the things you have in your head on the note paper isn't pleasant at all. Even sharpening a pencil is a dreary task, not to mention writing down dots on the stave. For me the need to write down music is closely related to the orders I get.
What do you feel when you see keyboard?
I feel secure behind it. Safe. It's a world I know since I was a child. The negative part of my musical experiences is the awareness that I play things I've already heard. It can be painful sometimes. I put my hands on the keyboard, I strike a sequence of chords and I know I've played it hundreds of times. I scratch my head and think what to do to change it. But it's hard to overcome the frontier of oneself. Listening to other pianists' music brings relief. Then I hear that they're also sentenced to repeating some characteritic moves. We all suffer from being right- or left-handed, which forces certain moves natural for the right or left hand. There are few artists who can set them free from this. I keep fighting for it and I hope I'll make it one day. Improvising comes to existence here and now, that's why I appreciate classical forms. Their composers break down known schemes through a painstaking breaking of musical structures. It takes hours to learn that.
Is there something you like to do as much as to play?
Not yet. I'm working on it. But do I really like playing after all? The moments of excitement are so rare, I' ve spent so many hours in front of the keyboard, there are few things that can surprise me. It can be nice, but I rested so little and always kept my dates that music became my curse. I love playing but only when I'm willing to, however, my profession requires that I love playing on Friday, 19:30 sharp.
But you called your last trio Mozdzer-Danielsson-Fresco a "dream team" and it appears your dreams happen often and fast.
Not always. Dreams need to mature too. The band entered the studio after 3 years. When I first met Lars Danielsson, I knew he was my musician. The same was with Fresco. One cannot explain it. One can feel it.
Do you intend to keep this band for long?
Let's wait and see what happens. For me it was love at first sight. The album that's being released in October is a proof of that. It's also a reciprocal feeling. Six months after our first concert together Lars invited me to the Jazz Baltica festival in Germany. Thanks to him I had an opportunity to play with Pat Metheny again. The music isn't like marriage though. Every betrayal, every fling brings new experiences. A musician comes back richer to his band after an adventure with other instrumentalists. I know Lars plays with other pianists. I play with other bass players.
It takes just one look at you to know you walk through life peacefully.
These are just appearances. However, I realised that if you want something and you think about it deeply, engaging your entire energy, the dreams come true sooner or later.
Many people dream but their dreams don't come true.
Maybe they don't really believe in coming true? It's hard to explain. My knowledge is based on books about self-progress, mind and life control – this type of psychology I'd call more metaphysical than official. Great minds of Polish science prefer to dig in their patients past, I'm interested in the future.
You talk about emotions, but you seem a rather composed man, not easily played by emotions. Do you sometimes cry or have spasms?
Honestly speaking, it's been a long time since I was touched – the last time was on the Buster Williams quintet concert on Jazz Jamboree. I closed my eyes and prayed for playin with him. It wasn't more than three years after when I found myself on stage with the dream squad. Next to me stood Buster Williams, Billy Harper and Piotr Wojtasik. Beautiful moments happen to me frequently. For example, I ate dinner in Rio with Nana Vasconselos, the legendary Brazilian drummer. Nana explained that he doesn't want to play jazz and looks for simplicity in music. I feel the same way since two years.
But you don't feel like a musical disciple in Poland?
These encounters provide magical experiences, but if I cared too much about them, I would have to kneel in front of somebody every day. I learned to live with masters. I saw a couple of times that some of them make a mistake during a concert or run nervously to the wardrobe because they forgot glasses. I think I can be myself in presence of every great musician.I learned to keep a distance. One has to live normally and look at the world sober. It useful in show business.Artist believe sincerely in art, they think only the authentic and natural can be appreciated by the audience. Many album sellers, producers and distributors cross the line between manipulation and truth. They know big circulation doesn't necessarily come in pair with high quality. For a long time I couldn't accept the fact that albums sell like socks or bricks. Since I came to high rankings on the selling list, I learn to live with producers anew.
You sell more albums a year than some pop stars.
Maybe more? I used to sign bad contracts in the beginning of my career. Many albums are being re-released on the occasion of new releases without my knowledge and without paying me. The success of a new album causes old ones to sell.
You were born in Gdańsk, what does it mean to you?
Maybe the fact that there's plenty of fresh air because it's by the sea. I know the feeling of freedom, looking forward when there's only horizon and nothing more. However, recently I found otGdańsk has the biggest cancer rate in Poland. It's because of the toxic waste stored on the coast.
What about the myth of the Gdańsk Shipyard, Solidarity, Lech Wałęsa?
In 1980 I used to take lorry to school and I've seen a lot from the strike. I stood in front of the gate. I saw it with my own eyes. I know my parents brought food and cigarettes to those on strike. The security searched my backpack many times in search of spray paint. The used the toilet in my school because all the demonstrations took place next to it. But I don't think I understood more from that than an average Pole.
You talk about it pretty emotionless, without emphasis.
I feel it's my intimate matter. When people remind how much the events in the shipyard changed history, I'm hapy that I was so close. Thanks to that I have a passport in my drawer and I can leave Gdańsk whenever I want. It's so easy getting used to it.
How would you sum up meeting ZbigniewPreisner, Adam Makowicz, Tomasz Stańko, TymonTymański?
They are very different artists and they are very similar in a way – all of them are artistically self centered and uniquely brilliant. All of them drain energy from young musicians but they teach them as well. I was lucky to meet leaders who aim high. I didn't end up in a band playing on weddings, I didn't meet a master who would teach me to drink vodka and do drugs. Now I'm on my own and this is the hardest task.
What about the album of David Gilmour from Pink Floyd? ZbigniewPreisner invited you to record it.
We met, we had one recording day in Cracow. I know Gilmour and Preisner are still in touch. The Pink Floyd guitar player is a man who lived long, has a lot of kids, a collection of plaines and his life for sure isn't just about music. He works slowly and precise with a relaxed attitude. He was busy preparing the Live 8 concert in the summer. Perhaps we will come back to the studio soon. It's worth remembering that Gilmour wants to record an album as a not well known musician now, without all the fuss.
I heard about plans to record with Tori Amos. She already received your records.
We will see what happens.
Does the ocean in Rio de Janeiro, the famous beaches of Copacabana and Ipanema inspire you in a special way?
The sea is the sea – ours is pretty too. And for sure there is a big plus of Baltic Beaches that there's no such noise over there like in Rio, where the cars drive a three-lane highway by the ocean.
Source: Rzeczpospolita Dz. / Nr 2182005 Jacek Cieślak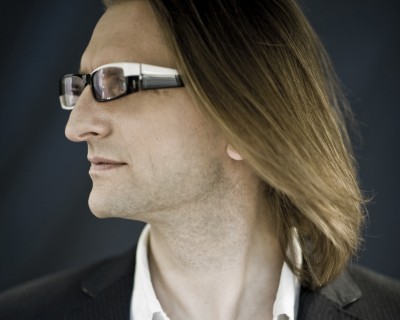 read less