The way you really are
Share
There are some moments during the concert when he's crossing the border. The music breaks free, gets its own energy. Leszek Możdżer , jazz piano artist, is happier then ever. He believes that even painful and bad experiences are necessary to keep the spiritual track.
Leszek's musical imagination knows no limit and his style is a gift from God – you can't just learn it. I believe someday everybody is going to get crazy about his music, the way I did years ago. His play is equal to those of the greatest of this world – says Anna Maria Jopek.
He's a big individuality, a musical phenomena, simply a genius – claims Urszula Dudziak.
He played with notable musicians before he finished music academy. However, for many years he has to look for job offers by himself. He felt unfulfilled, waiting by the phone for someone to offer him cooperation. He wasn't satisfied with himself. The moment he put on some jazz pianist's record, he felt the distance between them. Those days are gone. He doesn't feel inferior even to the American musicians. He always wanted to play like them – this black, predatory, twisted music.
I've heard about fifty pianists playing like that in New York. None of them had a hit like me – he claims.
He's a sensitive type, music is his getaway. I remember that we had almost no contact with him on tour. His back hurt so much that he stayed in the bus and slept. He was waking up just to give a concert. And he had such a charge in his fingers that nobody would believe he was fighting with pain the whole day – remembers Anna Maria Jopek.
He doesn't write just for himself, he does it when he has an order. He admits that he would never finish anything if it wasn't for a deadline, because of his laziness. Those who know him say that he's a man of passion and ethics. Probably he's tough to get for most women. When he gets an idea, nothing can compete with it. One year ago, when he was composing the music to "A Midsummer Night's Dream" trans-opera, he was out of reach. Some days he didn't shower nor shave. Only after two months, when he finished his work, did he notice that he was walking on unopened letters, bank account balances and unpaid bills. His gas and phone were cut off. – I was running out of time and I had to focus on the project – he excuses himself.
Feeding dreams
He remembers his first trip to Berlin. He went with school buddies. They were staring at every limousine covered with metallic varnish. In one of them he heard for the first time the thrilling trumpet from Miles Davis' "Kind of Blue". He thought he wanted to play that sort of music someday. It was one of the most beautiful things he got in touch with in his life. He still thinks so, even after hearing thousands of records. Most of them he keeps in his small apartment, in a pre-war villa by the sea in Sopot. He swears that he will never get rid of this place – it was the first he owned. Still he's dreaming of having apartments in several cities in the world. And that each and every one of them had the same set of keys. He doesn't want to talk about other dreams. He has to feed them with energy to make them come true. To caress and nurture them in his mind so that they get bigger. And then it comes true. Like the concert with Buster Williams. It was one of the most beautiful moments in his life. He cried for joy then.
He can get touched by a conversation, by a movie fragment, by an accidentally heard phrase. He gets moved by the emotions, not the form. Gestures, words, everything that has to do with love for another human being. The word "love" is the keyword in his vocabulary. There are about four very important people in his life. Thanks to them he knows which direction to take and what to stick to. However, he refers "I love you" to his parents, his girlfriend, but also to his manager, fan, the audience.
For a long time he envied people who said: "I used to live in London for two years, then in New York and then in Paris". So he packed his things and went to Warsaw to experience it on his own. He rented a garsoniere, installed the computer and the TV set. – It didn't take long, people in Warsaw walk down the street for other reasons than the people in Sopot. They walk to make business, make money, take care of some issues. In Sopot they just walk down the street to somewhere. And this is what I like more – he says.
Energy of sound
He comes from Gdańsk. He was baptised as Lesław. He tried to oppose to the producer when they put "LeszekMożdżer" on one of his first albums. But it stuck for many people, so he went to the office and dealt with it. Some witch even told him that the new name is numerologically better for him. She didn't mention the name-day date. That's OK, he never found it important.
He started taking piano lessons when he was 5, when the instrument appeared at home. Every day he travelled 11 km to the music school. Alone, actually with the shipyard workers, who got out on the same commuter line station. The parents, both engineers, created a stable, townsman home.
They had other plans for their son. They wanted him to play classical music, jazz didn't sound trustworthy to them. But the son listened to jazz and rock at nights. And even thought he still loves classical music, he always knew that he could express himself fully only in jazz improvisation. When he started receiving awards and the press wrote about his success more often, the parents admitted that he was right. – Good improvising is about skillfully using the things that happen. Every sound inspires another one, it leads me further. Following sounds is the most important thing – he explains.
Sometimes he puts various fabrics or objects on the strings. What for? To prevent the audience and himself from getting bored with the sound of one instrument.To make the concert sound more eventful.Leszek has an incredible classical technique. In his every phrase you can feel the wisdom reaching deep down to the roots of music. He makes up stories out of nowhere. He plays not only jazz but a beautiful cantilena (melody) as well, which is a rare thing in times of rhythm – assures Anna Maria Jopek.
Sometimes, very rarely, he feels that he crosses certain border. He engages so much in music, that she doesn't belong to him or the orchestra anymore.
I look at my hands then or at the hands of my colleagues and I find out from the keyboard what is actually happening. The music's energy is higher than our then – he tells.
He would like to play so beautiful that his head would explode. And the heart! Are there any people who can play like that? Are there many who play better than him? No, not many. But you can learn something from every artist. Like from Bo Stief, a Danish jazzman, more than seventy years old. The grey man who loves music and plays with it happy like a child.LeszekMożdżer thinks it is also good to immerse in the dirt of life to become a good artist. Because a man on the stage, who didn't experience pain, is not authentic. Does he know a lot about it himself? – Sufficient for a man of 32 years – he answers.
When God has no other choice
In 1996 he recorded "Talk to Jesus". He thinks one should look for God inside, not outside. He got convinced by a phrase he heard somewhere, that we always pray to ourselves, that God is the infinity in us. Earlier he didn't have the courage to think that. He was raised Catholic and he is rooted in it but he doesn't feel 100% Catholic. He is looking for God on his own narrow path. – Is it a path without end but I feel that I'm going forward. I become calmer, more harmonious, happier. But I have a lot to do yet, like everybody – he says, rhythmically playing with his fingers on the table, like he was just beginning to play some complicated part.
Where is this peace coming from? It comes from the belief that reality becomes more and more harmonious for him. There are many so called coincidences, magic and cravings that manifest and come true very fast. He is convinced that even the painful, bad experiences are turning out to be necessary after some time, they help to stay on the spiritual track. What else could waking up on the street without one teeth be? It helped him not to abuse "certain substances". – When I was watching the drug addicts on the railway station, I thought that the world wasn't fair. I thought: where is God and why does he let people to do this to themselves? Now I know it is the man who injects the drug that is punishing himself and God has no other choice.
The great musicians that he met, were always people with great spiritual awareness, deeply metaphysical. They had a feeling that reality is something more than just the body, gravity and bills to pay. He is convinced that's true. He is interested in seeking the truth, but not through meditation or self-help books. Maybe they helped him a bit, but he doesn't use them anymore. When he found out that anybody can publish a book, he lost respect for the written word. He doesn't read much in general. – I like to think and experience live. Feel the emotions that it brings – he says and immediately adds – what am I saying? It is such a cliché! – and he plays the invisible piano again.
Yellow pants
He has so many obligations that he often lacks free time. He receives offers from jazz musicians and rappers, film makers and theatre directors. He knows how much he is worth, however he can work for less money if it's for friends or some interesting project. He claims that he was spending money carelessly for years because he didn't know how to use their power. He was overpaying and wasn't able to require things from the people he hired. He compensated by shopping in expensive shops and eating in even more expensive restaurants. Today he admits it was about his complexes.
I was convinced that I'm so rich. In reality it showed my poverty and low self esteem. Now I try to keep track of my account balance and to find out if I can afford something. Money bad spent will take its revenge sooner or later – he claims.
On average he doesn't wear as extravagant clothes as before. But the yellow pants and other colourful things still wait in the closet, ready to be worn. He doesn't need them to manifest his uniqueness anymore. Even more, when he took a look at himself, dressed to jolly, in the mirror, he got the impression that he is too old for such flamboyant wardrobe. But he still likes to dress to impress for a concert. Colorful and original, it is his costume after all.
He found out that it is not worth showing off to the audience. It is better to share the best you've got. It will come back to you, financially or in some other form. So he goes out, sits in front of the piano and tries to play the best he can. With great humility, the reminder of his musical school exams. It comes from the feeling, that there's someone in the room who knows good music better than he does. And this one man will never be fooled.
First of all, you have to be yourself, reach for your own genius and let it blossom! I get more confident after some positive feedback and I still know that I can do way better. And it's going to happen one day. It will manifest itself as a composition, an album or a concert. Anything – he assures.
He's not always able to capture the audience. Not long ago he played in a prestigious place, on a prestigious company party. And nobody listened to him. Nobody. The guests were more interested in business conversations and loads of salads. He played scales for a while and left the stage. – It was really enlightening. You should play for those who want to listen and write poems for poets – he claims.
I won't give up!
In press interviews he repeats for years: I believe that I will be in a good relationship. He talks about the single male and single female markets. About the casting that takes place all the time and about its rules, which are hard to understand. Does he try to find someone? – I have already recorded more than 70 albums to do it. It's like marking my territory, leaving traces – he explains.
Lesiu is a lovely, warm and very respectable friend. I've never heard anyone saying bad things about him – says Urszula Dudziak. Other colleagues add that he is an impenetrable world that uncovers itself inly through music. – My music is not about who I am but who I want to become. A beautiful, noble, generous and full of love man. Bringing peace, understanding and giving life a purpose. It is a hard task to be such a man. But I am not going to let go! The things that happen on this planet, these wars and killing, it's unacceptable. I have a couple of friends who share my view. I believe there will be more of us and that we will make the world a better place, a place where people will live like people, not like animals. This is the only option to save this world.
When I suggest that he's an idealist, he answers: – I want to be. Someone has to.
Leszek Możdżer – graduated from the Academy of Music in Gdańsk. Pianist, composer, orchestrator.Awarded with many prestigious jazz festival and competition prizes. He co-worked with such outstanding musicians as Zbigniew Namysłowski, Zbigniew Preisner, Tomasz Stańko, Michał Urbaniak, Pat Metheny, Billy Harper, David Friesen. He recorded more than 70 albums.
Source: Lidia Butowska "Zwierciadło" nr 5/2004,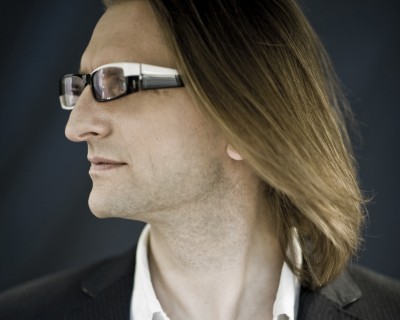 read less